Thuis
Volledig
Post
Aanmelden
Afdrukken
Prijzen van de Camping - voor 2023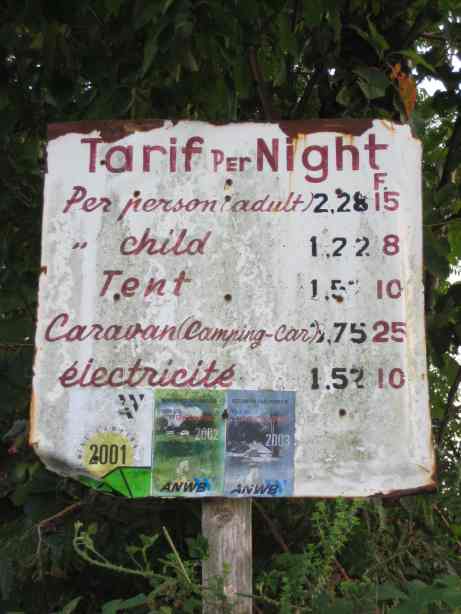 Prijzen/Prices
per nacht/night
Euro
Persoon/Person
2.50
Kind/Child
1.50
Tent
2.50
Caravan/Camper
4.50
Electriciteit/Electricity
2.50
1p = 1 persoon/person, 2p = 2 personen/persons
2p+2c = 2 personen en 2 kinderen / 2 persons and 2 children
Voorbeelden
/ Examples
1p
Tent
2p
Tent
2p+2c
Tent
2p
Camper
2p+2c
Caravan
Persoon/Person (p)
2.50
5.00
5.00
5.00
5.00
Kind/Child (c)
3.00
3.00
Tent
2.50
2.50
2.50
Caravan/Camper
4.50
4.50
Electriciteit/Electricity
2.50
2.50
2.50
2.50
2.50
Totaal/Total
7.50
10.00
13.00
12.00
15.00
De camping is geopend tussen 1 maart en 31 oktober.
Daar buiten alleen in overleg met Fred en met een toeslag op de electriciteit (minimum of 5 euro per dag voor electriciteit).
The camping is open between March 1 and October 31.
Access outside this period only after consultation with Fred and with a surcharge on electricity (at least 5 euro per day for electricity)
Opladen van een auto accu is niet toegestaan zonder toestemming van Fred (minimum of 25 euro per lading).
Charging your Electric Car is not allowed without permission by Fred (at least 25 euro per charge).