Thuis
Frame
Print
Google Route Description

Use this link for a route description using Google from your current location
(but avoid the small roads especially with a caravan
or use the route descriptions on this page).

Fred's Place - Route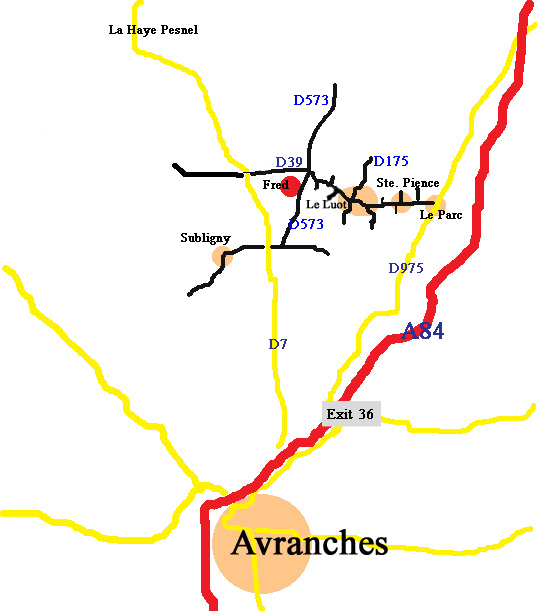 Route to the camping (See Address for GPS coordinates):
On the motorway A84 take Exit 36 for Le Parc
On the roundabout take the first exit in the direction of Le Parc (D975)
After ± 6 km you arrive in Le Parc, take a left turn at the traffic lights in the direction of Ste. Pience (D39)
After ± 4 km in Westwards direction (passing through the villages Ste. Pience and Le Luot) turn left in the direction of Chavoy (D573)
This is the third exit to the left on the D39, ±1.5 km after Le Luot (after the sign for the end of the village Le Luot) (D573)
After ± 250 meter you will find the camping on the right (the entrance can be recognized by the camping sign)
If you use a navigationsystem then use the GPS coordinates but be aware that the route can lead you via vary small roads.
When you cannot use the GPS coordinates in your sytem then use the junction between 2 roads (D39 and D573) because that brings you at 300m of the camping and a campingsign will show you the direction.
Watch out: When using the address in your navigationsystem this may lead you to Subligny but the camping is a couple of kilometers outside Subligny and the streetname is very likely not known by your navigationsystem.